His full name is Dominique Le Fort, but the world knows him simply as Dominique the Cat Man. Dominique is among the best of those weirdly wonderful street performers who enchant crowds of locals and tourists swarming onto Mallory Square pier every late afternoon. Their common goal: to ritually celebrate the Setting of the Sun, a gala Key West event.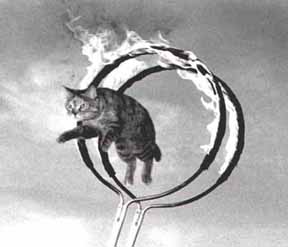 Often outfitted in theatrical lion tamer garb, the shaggy, blond-coiffured Dominique is more than half the show himself. Mixing mime, dance postures, and French-accented demands to his enthralled audience and feline acrobats, he comes off as Maurice Chevalier playing Marcel Marceau playing Gunther Gebel-Williams.
The "lions," of course, are his tiny domestic cats, with names like Sara, Sharky, and Piggy. Together·, Dominique and his kitties offer a unique show that's as sensational as it is silly. Sometimes the cats charge out of their cages, then leap up to Dominque's tall circus stands, or onto the Frenchman himself. Sometimes they execute jumps, skips, and turns, or leap through flaming hoops, eliciting ooohs and aaahs from the packed circle of onlookers. Sometimes the cats do absolutely nothing at all. In which case, Dominique, a well-seasoned ham with a flair for theatrics, performs figurative headstands while waiting for them to do their stuff.
"The show is fun," says Le Fort. "And the way I train the cats is to be fun. We tease each other. It's not like the circus. The show has evolved over the years, too. Now there is more entertainment, and less cat tricks."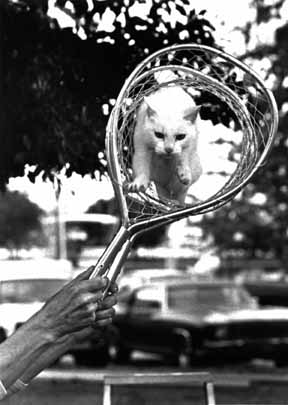 Though he's been performing for Key West sunsets since 1981, Dominique Le Fort began his life in France, first in rural Britanny and later in the suburbs of Paris. Enchanted with circus clowns at an early age, Dominique, the oldest of seven children, and a self-avowed "bad boy," went on to careers in dramatic theater, mime, and even cabaret. Through performance gigs, he was able to escape from home, traveling to London, Montreal, and finally the United States.
It was during some clowning shows in Canada that Dominique first integrated a cat, a family pet named Chaton, into his act."My daughter was 5 years old," Dominique remembers, "and one day she was pulling Chaton's tale, and the cat came to me for protection. Then he started following me around. So I decided to use him in my circus show, and I trained him for about six months. Our first show was in a high school gym. But Chaton panicked and hid. And I ended up doing the show alone!
"The secret to training cats is not so much the tricks," the performer acknowledges. "It's getting them used to people. Cats are very territorial and feel secure in their own territory. So that's why I have all these metal cages on my stage. "It's their territory, their cocoon. And I have to protect them. People and noise can distract them. Then I have to send them vibes to get them back. You have to make them comfortable - or they won't do the tricks." A certain amount of added comfort came last January when Dominique and two other Key West Sunset acts were invited to move their shows from overcrowded Mallory Square pier to the newly constructed Hilton Pier. If things go as planned, a bridge will soon unite the two performance spaces (eliminating the trek you currently have to take through shell shops and past the Aquarium, to move from one to the other), providing fans, vendors, and performers with more options than ever.
eanwhile, Dominique and his trained cats will continue to entertain and enchant, no matter what their venue. "I'm like the cats," Dominique muses. "I like to live for the high or for the low. Cats live their life on the edge- and Key West is the southernmost place!"