Sunset Celebration Comes to Pleasure Island
A taste of old Key West's Mallory Square is being imported to Pleasure Island. Now through Labor day, a Sunset Celebration unfolds on the streets of Pleasure Island from 7-9 p.m.
Direct from the Key West Docks comes "Dominique and his Trained House Cats." Cats trained to do tricks? The fearless felines will jump through hoops during the evening Sunset Celebration.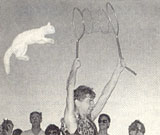 Dominique's "Trained House Cats" jump through hoops on command (and you can't get your cat to stay of the sofa).